You are here: Home > Convert AVI to DVD and burn with menu
| | |
| --- | --- |
| Convert AVI to DVD and burn with menu | |
What you can do:

How to Convert and burn:
avi, divx, xvid, mov, mkv, flv, mpeg1, mpeg2, mpeg-, nsv, dvr-ms, tivo, ts, ifo, vob, asf, wmv, real fiels, rm, rmvb, ogm, + camcorder files to
-------------------------------------------------------------------> DVD format with menu for any DVD player!

ConvertXtoDVD supports the most popular formats. This version supports subtitles, advanced options, included burn engine, fast and quality encoder, and automatic menu.
Step by step guide:
1) Donwload and install ConvertXtoDVD
2) In ConvertXtoDVD, add the video files you would like to put on a DVD. Use the options below to add your files, or drag and drop your files in the window.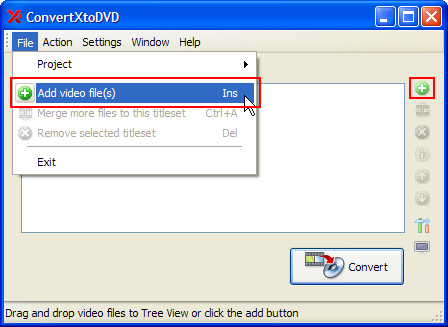 3) If you want to convert and burn your project automatically onto DVD, insert a blank DVD and press the Convert button. That is all there is to it!

4) If you want to customize your project click on the "+" next to DVD Options in the Tree View. Select the template you would like to use for your menu and check or uncheck the boxes to configure the DVD's behavior ( auto start the video, loop on / off etc... ) .

Under Title Menu parameters you can edit the text that will appear at the top of your menu, in this example [MY DVD]. Depending on the template you chose you can also set a specific image or video and music file to play in the background of your title menu, simply double click on these items.

Note: If you have added only 1 file to convert and you have not unchecked the option above it "Don't create title menu for a single video) the Menu for your DVD will be the root menu, in which case you need to change "title text for root menu" under Titleset #1, section Titleset Menu parameters.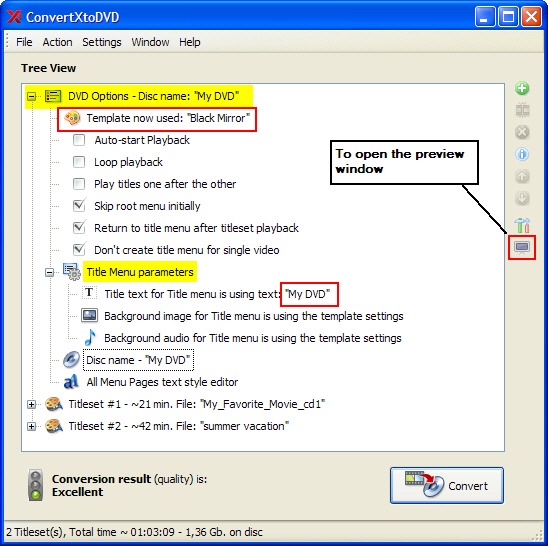 5) Click on the + next to Titleset #1 to see all the options you can edit about this video file. By right clicking on the entries Audio, Subtitles and Chapters you can add additional items or remove them. To adjust settings for the global project, use the Settings in the top menu.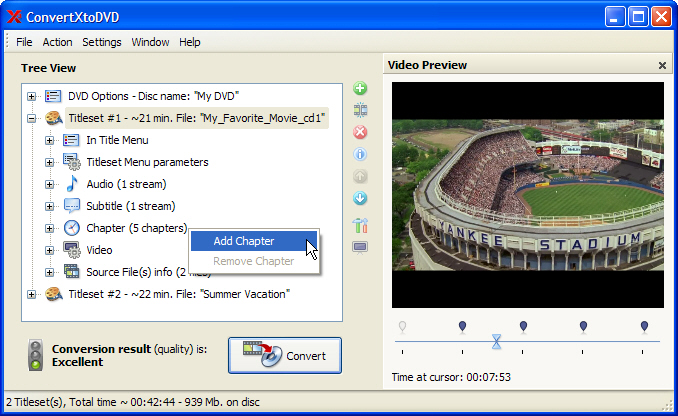 6) Once you are satisfied, click on the Convert button. If you have inserted a blank DVD into you DVD burner, the result will automatically be burnt onto DVD. If you want to burn your conversion at another time you can always go to Action in the main menu and select Burn an already converted project.