You are here: Home > IConvert
iConvert is a simple, efficient and smart video converter software for Windows, and works with all Apple iDevice families. You will have complete control over the quality and file size of the output by means of a Slider in the friendly and intuitive iConvert interface. iConvert can automatically sync converted files to your iTunes library. You can convert video files to your iPod, put and play video on iPhone, or watch HD videos on you iPad screen.




License :
Free trial
Limitations :
Free
Requirements:

2000 XP 2003 Server
Vista Windows 7


Processor: Intel / AMD compatible at 1,5 GHz or higher
512 MB RAM or more
Windows compatible sound card
DirectX: Microsoft DirectX 9.0c or later
5 GB Free Space, 10GB or larger is recommended
Features Highlight

iConvert supports both MPEG-4 and H.264 encoding, in addition to audio-only conversion (mp4, m4a).

Convert any video file to any Apple iDevice. e.g. AVI to iPod, iPhone, MKV to iPad, etc.

To convert a video, say an AVI to iPhone:

1. Add or drag and drop your videos to iConvert.
2. Select your device.
3. Adjust file size/quality slide bar
4. Click convert, and you're ready to go!

You will find your videos in your iTunes library, converted, optimized, and ready to sync to your iDevice.

Supported video formats: AVI, DivX, Xvid, WMV, DVD, VOB, FLV, YouTube videos, MP4, MPEG, MPG, MOV, MKV, 3GP, M4V, ASF, RM, RMV, and more!
Supported devices: All Apple iDevice including iPod, iPod Touch, iPod Touch 4G, iPhone, iPhone 4, and iPad.
Output format: Converts to MPEG-4 / H.264 / AAC. Convert video and audio, or grab audio-only.
Screenshot
iConvert is simple, efficient, and smart.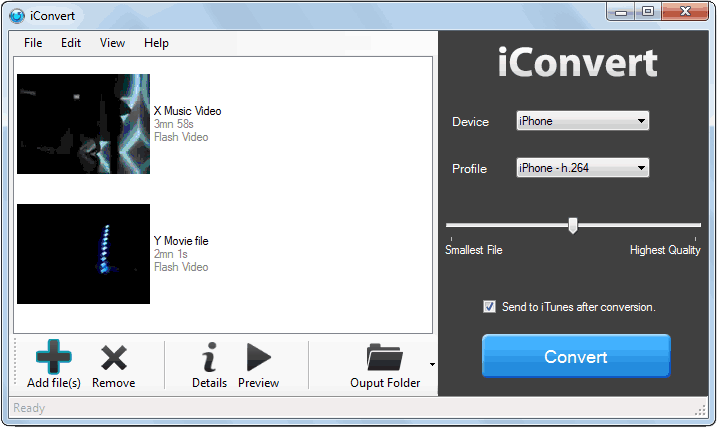 iConvert gives you the choice to send videos you convert, directly into your iTunes library.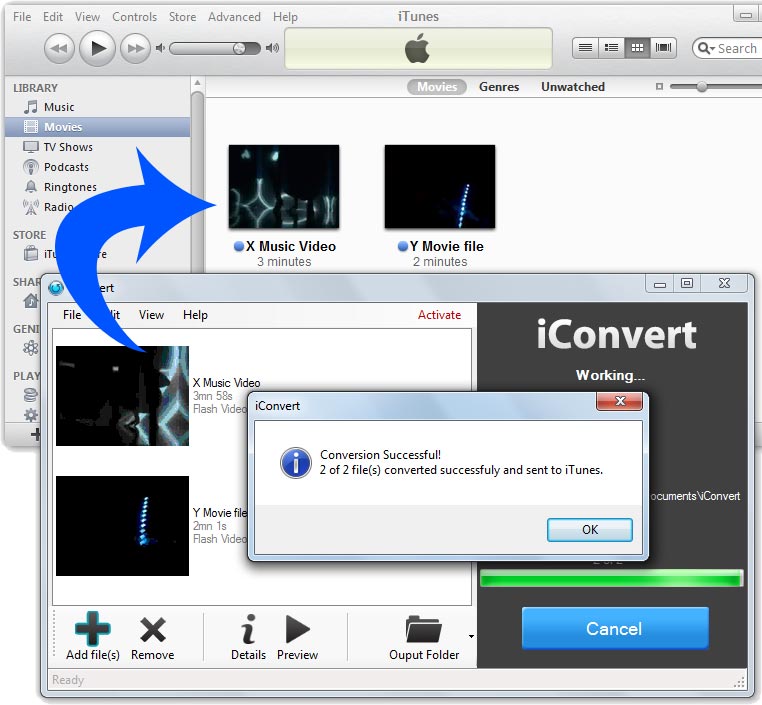 It also lets you control the quality and file size of videos you convert.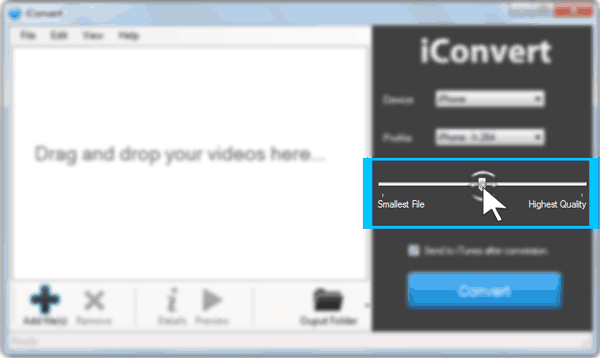 You can also preview any video file you add to the converter.